Since the beginning of October, I've written 4 posts on this blog. Yes, I've kept up with my other 3 line player collection blog, but it's just not the same.
I mentioned a couple of weeks ago that something happened at work; I've wanted to write about it on the blog since then, but haven't found the way, or the words to create the inspiration to write.
Then Queen's "The Show Must Go On" came on my iTunes this morning, and inspiration came to light.
I work in an office setting, and for any of you out there that work in the same kind of environment, you know that gossip usually is a big thing.
We had speculated ever since Hurricane Irma that our boss just wasn't the same. Thoughts were that he might be taking another position in the company, or moving on to other employment.
The boss was away for a week in meetings at the end of September, and was expected back to work on the Monday after.
He never showed up. His boss tried to locate him, but to no avail. Our security department was called in.
Our boss was found dead. Suicide.
There's 9 of us in our department, and not one of us had any idea he had these kind of thoughts. Had I any idea, I surely would have reached out to talk to him.
He was 40. Well established in the company and well thought of. I wasn't close to him, but I liked the guy. We had a good rapport. I never believed for one moment that he would have been capable of this.
When it comes down to mental health, you just really never know.
One card rule: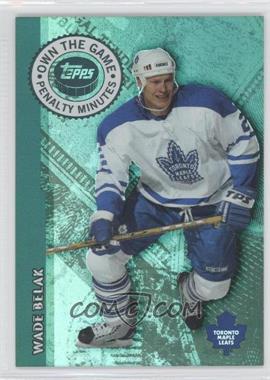 2003-04 Topps - Own the Game #OTG19 - Wade Belak
I remember hearing about Wade Belak's suicide a few years ago. (note: Belak's family believes his death was accidental, but the police ruled it suicide)
It surprised me to say the least, but it wasn't personal. What happened with my boss was really personal, and gave me perspective on myself, as well as the others in my office.
This has taught that you truly never know what's going on in a person's mind. But you can be there for them.
Sometimes listening is all you have to do. Bell Canada's slogan during mental health awareness month rings more true to me now than ever.
#letstalk
Thanks for listening, Robert